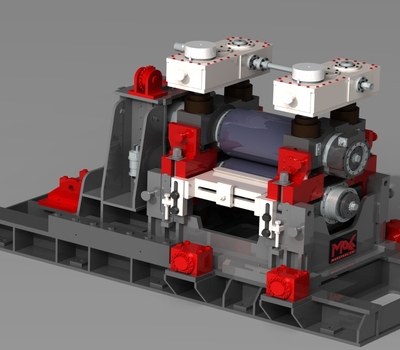 Location

Components

Rolling mill

Roll catridge

Screw down machinery

Cover

E

. Container for in line charging

Dute

Rolling operations.

A- Roll cartridge

Roll chocks

The four roll chocks are connected to each other by four mill screws (via the mill screw nuts).

The roll chocks are enclosed in the upright.

The two rolls are supported in four cylindrical roller bearings for radial loads and two thrust bearings for axial loads.

Grease lubrication for roller bearings and guides.

Axial adjustment of rolls

Manual for the top roll by means of a worm gear acting on the inner ring of the roller bearing with a clearance-free nut arrangement.

Mechanical counterbalancing system

Applied to all four roll chocks.

The purpose is to eliminate the clearance in the mill screw and between the mill screw nuts and the roll chocks.

The weight of the roll chocks is carried by sets of springs placed between the counter nuts and the roll chocks.

The counterbalancing force is constant regardless of the stand centre distance.

Rest bar with slider

Mounted at entry and exit side of the roll chock uprights.

Each rest bar is equipped with a slider and moves parallel to the roll axis.

The slider is shifted manually by a spanner for groove changing and locked in position by two safety bolts.

The guides are locked onto the rest bar by means of two bolts

---

B- Screw down machinery

The screwdown assembly is installed at the top of the cartridge for both symmetrical and independent roll gap adjustment by hydraulic motor. Manual adjustment by spanner is also possible.

It is complete with two dial indicators and one encoder




---

C- Cover

It is designed to portect the stand cartridge. it is made of welded steel and mounted / removed by crane.

---

D.E- Container for in line changing

It is designed to carry the roll unit cartridge.

The container is provided with four (4) hydraulic locking nuts.

The container remains on the baseplate during changing of the stand cartridge.