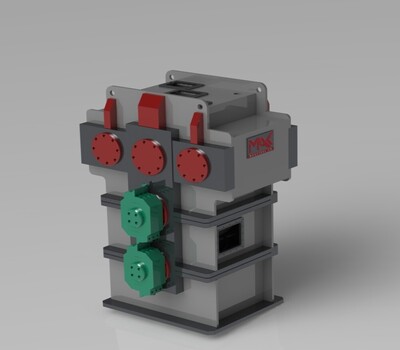 Location

Components

Rolling mill

Motor coupling and coupling guard

Rotary shear

Shaped on board blades

inlet / outlet equipment

Motor baseplate

Shear guard

Dute

Head and tail cropping.

Emergency chopping.

Cutting to multiple lengh (if any).

---

A-Motor coupling and coupling guard

The motor torque is transmitted to the shear body via gear-type coupling.

Motor holding brake to prevent oscillation of blade holder while in waiting position.

---

B- Rotary shear

Start-stop, rotary type with a blades on each bladeholder.

Bladeholder shafts driven by gears powered by start-stop motor.

Input shaft dimensioned to ensure the required inertia for cutting (i.e. a flywheel is installed if required).

Fabricated steel housing, sealed for oil tightness.

Transmission gears in alloy steel, carburized, hardened and ground, mounted on roller bearings.

Fabricated steel bladeholders. Blades are fastened by screws and blade overlap is adjusted by shims

---

C- Shaped on board blades

Alloy steel, heat treated by hardening and anealing. Locked to the bladeholder by screws.

---

C- Inlet / outlet equipment

Entry trough and exit trough in fabricated steel structure fixed to the foundations, fitted with pneumatically opening bottom for scrap discharge.

The exit trough is also fitted with a pneumatically driven diverter flap for crop discharge and idle rollers to prevent scratching.



---

D- Motor baseplate

Fabricated steel structure.

---

E-Shear guard

Fabricated steel structure, including supporting columns, fixed and manually movable sliding protection panels with perforated plate and idle wheels, top and bottom runways.